With the incoming baby boomers on the horizon, many Senior Living providers are looking to support seniors living in urban areas who won't want to move to a Senior Living community in the suburbs. To meet the demands of these future residents while still providing great care, providers are renovating existing structures and building new communities in downtown, urban environments.
Building Senior Living communities in urban areas is a great way to support active lifestyles by promoting a sense of community. Seniors can easily take advantage of everything downtown has to offer, including shops, restaurants and entertainment. Many of these amenities are walkable, which encourages a greater sense of independence.
Understand the Area
Since each urban area and neighborhood has its own unique characteristics that can influence a Senior Living interior design, it's a good idea to do a tour of the local area. Drive around the neighborhood to take note of the architecture, or eat at a local hot spot to understand the vibe of the place. Gain a better understanding of the area by asking clients a few questions, like:
What's the atmosphere of your building?
What activities do your residents enjoy?
What type of resident mix are you trying to attract?
Who is your competition?
This can help determine what the client is looking for and what you may need to add or remove from the design.
Infuse Sleek Furnishings
Whether it's a renovated industrial warehouse or a sleek new construction, many urban communities employ on-trend, clean-lined design. Contemporary furnishings, like the Maxwell Thomas Knoxville and Evanston Occasional Chairs (pictured below), feel right at home in these modern designs.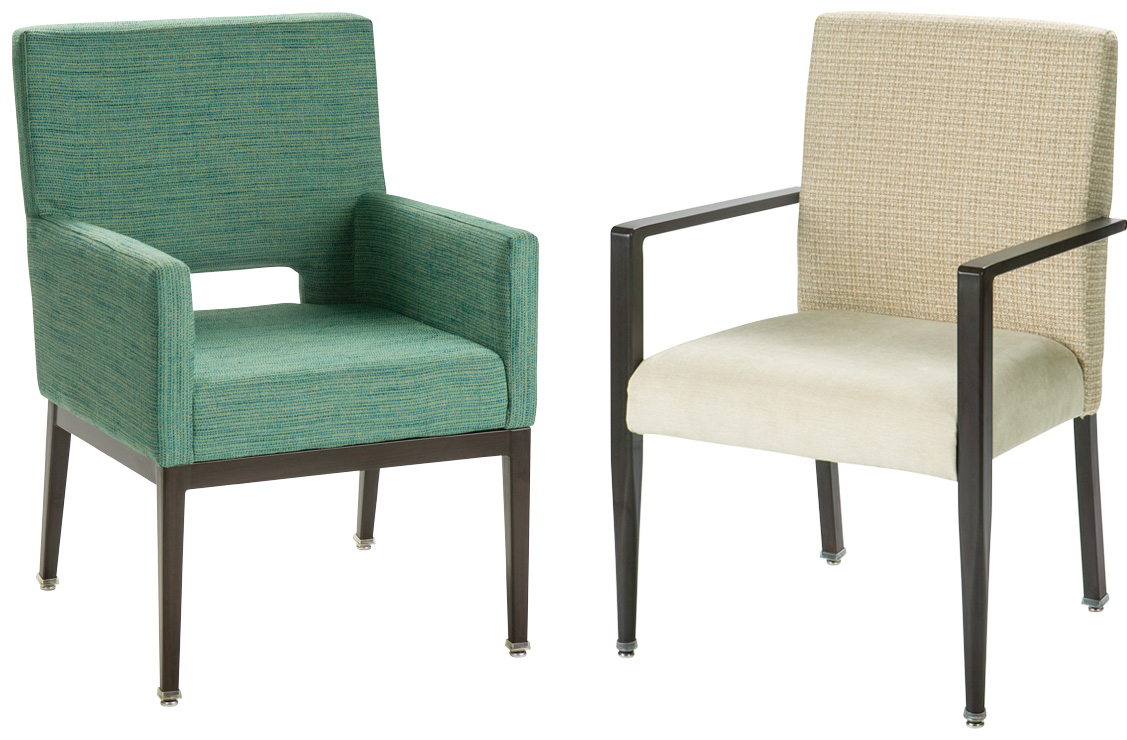 In addition to their straight backs, exposed legs and clean lines, they feature ultra-durable aluminum frames with rich faux-wood finishes. This construction is ideal for contemporary spaces, as the sleek metal offers an industrial look while the faux-wood finish offers warmth. Plus, the open back on the Knoxville Chair is not only on-trend, but it's also a functional way to simplify cleaning by preventing crumbs from accumulating.
With an array of modern options, you can find sleek contemporary furnishings that fit your Senior Living design vision. Ready to learn more? View the Knoxville Occasional Chair and the Evanston Occasional Chair, or contact us today.
Find inspiration for your next Senior Living design on Pinterest.